Exploring the Influence of Learning Strategies on Academic Performance among Medical Students in Lahore
Keywords:
Learning style, learning strategies, academic performance, Medical students.
Abstract
Background: To excel in medical school, students utilize a range of learning styles and methods. These strategies reflect individual preferences to master the multiple disciplines of medical education. This study investigates the impact of different learning styles on the academic achievement of medical students. The goal is to find the most effective learning style for medical students to improve their academic performance. Methodology: A cross-sectional study of 239 medical students in Lahore was conducted. The data was collected through a self-generated questionnaire administered via WhatsApp and email. Students selected their predominant learning style from one of three options: self-study, group study, or online learning resources. Academic performance was measured as percentages of marks in each year of medical school. Univariate ANOVA tests were used to compare academic performance (the dependent variable) across different learning strategies (the independent variable). Results: The results show that Self-study is the most prevalent learning strategy among the participants, with 62.3% of students engaging in independent learning using textbooks and lecture notes. Approximately 15.9% of students reported engaging in group study, while 21.8% used online learning resources. The ANOVA tests reveal no significant difference in academic performance based on study style for the first and second years (p > 0.05) of the MBBS course. However, for the third year, there is a statistically significant effect (p = 0.024) of study style on academic performance, albeit with a small to moderate practical significance. Conclusion: Self-study was the most popular learning strategy among medical students in Lahore. However, there was no significant association between learning strategies and academic performance. This suggests that all learning strategies can be effective. Medical students should experiment with different learning strategies to find the best.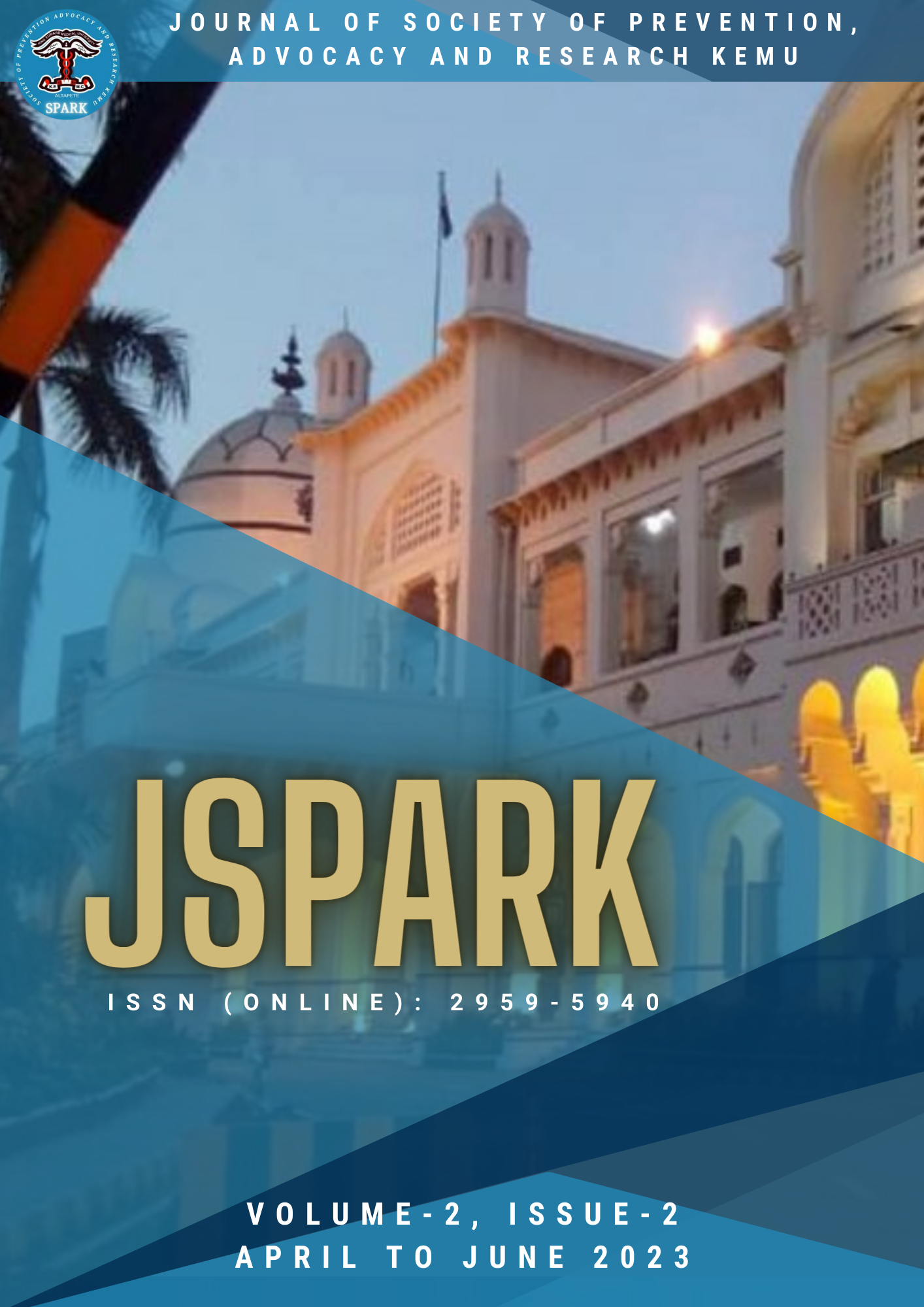 Downloads
Published
2023-06-26 — Updated on 2023-07-21
How to Cite
Syed, Z. A., Ahmad, Z., Malik, U. N., Zahid, W. A., Malik, Z., Amir, Z., Bhutta, Z. N., Zainab, Afzal, S., & Tufail, M. (2023). Exploring the Influence of Learning Strategies on Academic Performance among Medical Students in Lahore. Journal of Society of Prevention, Advocacy and Research KEMU, 2(2), 46–53. Retrieved from https://journalofspark.com/journal/index.php/JSpark/article/view/149 (Original work published June 26, 2023)
Section
Research Articles