Post-Covid-19 Long Haul Syndrome
Keywords:
Post-covid19, Long haul syndrome, Long haulers, Effects
Abstract
Background: People with post covid19 conditions may experience a wide range of symptoms lasting from 3 weeks to 6 months. Covid-19 is a rapidly onset illness in humans that results from the coronavirus. Originating in 2019, it was first discovered in China and later became a pandemic. Covid19 affects billions of people worldwide and most of the recovered patients show post covid19 effects. Objectives: The goal of this study was to provide an estimate of the effects of Post Covid-19, also called Long Haul syndrome based on the published literature on the subject of chronic clinical presentations in long haulers. Methodology: The articles were retrieved by searching relevant databases. Articles containing original work, both qualitative and quantitative, were searched for relevant content. Results: Of the total 2920 articles from initial research, 20 were finalized to be researched for this comprehensive assessment. All of the research was based on hospitalized and non-hospitalized covid19 patients with proper follow-up history for more than a month. These study participants have multi-faceted effects, more than 35 types of symptoms, and multi-organ involvement in various diseases. Conclusion: The incidence of multifaceted effects of post covid19 has continued to impact the victims for weeks or months. These include multi-organ diseases and need multidisciplinary care and proper follow-up treatment.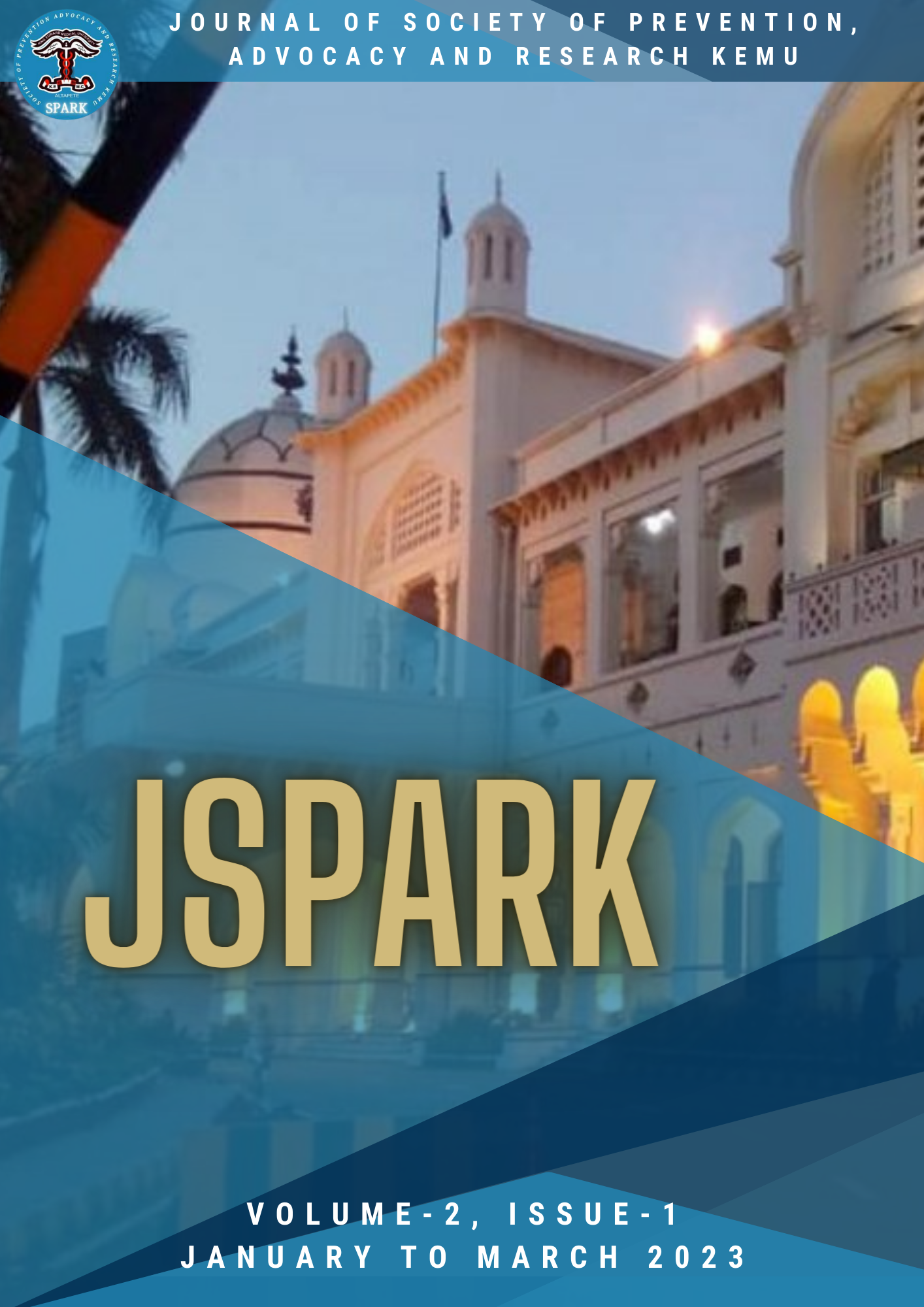 Downloads
How to Cite
Batool, F., Nisar, A., Ikram, W., Shakoor, H., Ahmad, M., Tausif, M., Buzdar, A., Ashraf, M. A., Aziz, F., Salman, F., & Saeed, A. A. (2023). Post-Covid-19 Long Haul Syndrome. Journal of Society of Prevention, Advocacy and Research KEMU, 2(1). Retrieved from https://journalofspark.com/journal/index.php/JSpark/article/view/109
Section
Research Articles