Causes of Suicide in Pakistan
Keywords:
Suicide, Suicide attempt, Aetiology, Causes, Pakistan
Abstract
Background:
Suicide is a complex phenomenon that involves social, cultural, biological, psychological, and environmental factors. Pakistan is a low-income Muslim country, in which suicide cases have increased in recent years. Aim: Our review focuses on the causes of suicide in Pakistan.
Methodology: A systematic review was done to find out about the causes of suicide in Pakistan. Databases like PubMed, Google Scholar, and Science Direct were searched using keywords like "suicide", "suicide attempt", "etiology", "causes", and "Pakistan". A total of 208 articles were screened out of which only 7 met our inclusion criteria. The rest were excluded because the data wasn't of Pakistan or wasn't just limited to Pakistan, Qualitative data were extracted from these articles and were tabulated and exposed to the major causes of suicide in Pakistan.
Results: Systematic review was conducted to find out about the causes of suicide in different age groups, genders, and regional groups. The majority of suicides were linked to domestic problems. Most suicide attempts were done by females, married people, and youth, indicating the strong association of gender bias, family disputes, and depression, with suicide. Mental health problems, unemployment and prolonged illnesses, and low income also contributed a great deal to suicide. Other causes like social injustice, failure in love, failure in exams, bullying, and sexual abuse were also there. There is a need for greater attention and in-depth studies to elaborate on causative mechanisms for these public health issues.
Conclusion: The most common reasons that compel an individual to take his/her own life are depression/mental illness, socioeconomic conditions, domestic violence and disputes, unemployment, and some major failure in life.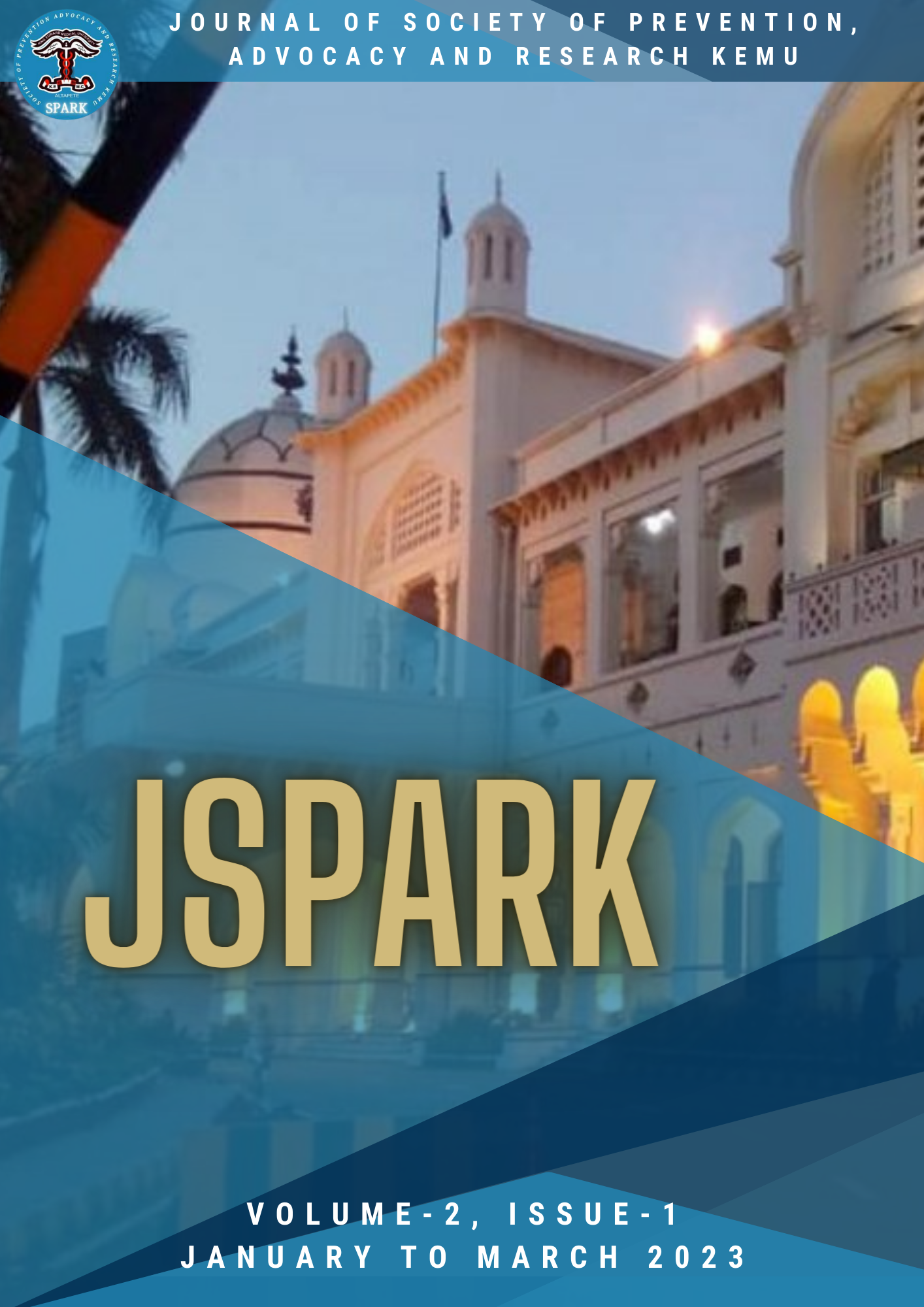 Downloads
How to Cite
Zahra, S. G., Elahi, M., Saleem, S., Noor, S., Rehman, M. ur, Zubair, M., Ali, S., Ejaz, M. A., Faiz, M., Butt, S. B., Aziz, F., Salman, F., & Saeed, A. A. (2023). Causes of Suicide in Pakistan. Journal of Society of Prevention, Advocacy and Research KEMU, 2(1). Retrieved from https://journalofspark.com/journal/index.php/JSpark/article/view/106
Section
Research Articles